Welcome to Class 3B
Please check our page regularly for any updates on what we have been doing in class.
Our class teacher is Miss Bennett. We are also very lucky to have Ms Abbiss and Mrs Milner.
Our Superstar this week is: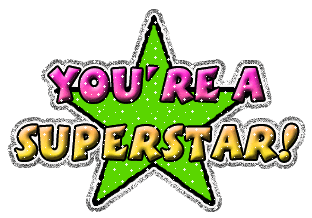 Our Head Teachers stickers this week go to:
Term 2 - Extreme Earth
Our learning question this term is 'How Extreme is our Earth?' We will be learning about hurricanes, earthquakes, tsunamis, volcanoes and much more.
This term in English we will be focusing on Iron Man by Ted Hughes. We will be looking at the characters of the Iron Man and Hogarth and creating our own character profiles. We will also become newspaper reporters and write about the exciting night that the Iron Man came to the village. 
In science our learning question is 'Am I Attractive Enough?' We will be learning about forces and magnets. We will be investigating magnetic materials and the properties of magnets, as well as finding out about the effect of friction on an object. 
In art and design we will be looking at the primary colours and why these are so important. We will be mixing colours and creating our own versions of Kadinsky's cirles painting. 
This term we will be beginning our food technology learning. We will be following a recipe to make our own Glamorgan sausages, I'm sure they will be delicious!
Term 1 - Who First Lived in Britain?
We hope you have had a lovely summer and are now ready to start the new school year, so welcome to Year 3! We have some very interesting topics coming up this year, starting with 'The Stone Age'.
In English, we will be focussing on the story The Stone Age boy.
In Maths, we will be looking at place value, counting and comparing numbers,
In Science, we will answer the question 'How does a Sabre Tooth Cat move so quickly?' by studying healthy diets, including food groups and nutrition of both humans and animals.
In History, we will answer the question 'Who first lived in Britain?' by researching the Stone Age man and comparing our lifestyle to his, including his food, home, art and communication.
Please remember this term...
Bring your reading book and planner to school everyday. Please also sign the planners to show that the children have read their books. Homework is set on a Friday and is due back Thursday. 
21.9.17
In Science today we learnt all about our organs and the importance of blood. We even made our very own blood!
Our Church School Value
As Coningsby Believers we will explore our church school value for this term – Perserverance. Our Bible story of the term is 'Jesus heals the paralysed man' (Mark 2. v1-12)
We are working really hard to learn our times tables. Please support your child at home to learn these. There are some links below to online times tables games that will help you child practice in a fun way. 
Year 3 End of year Expectations