Welcome to Class 1B!
Our teacher is Miss Bennett. We have 26 brilliant children in our class. We are very lucky to have Mrs Gates and Mrs Butler too. 
Please keep popping back to this page to see all of the exciting things we have been doing, including our brilliant work, photo's and information. 
Term 5
Our Learning Question this term is:
What would the Queen like for her birthday?
 In English, we will be focussing on the book 'The Queen's Orang-utan' by David Walliams. Writing letters to the queen, predicting the story and planning her birthday party!
In History we will be learning all about the Queen. We're going to look at Queen's from the past and comparing their lives to that of our Queen. We will find out about where she lives and how she celebrates her birthday.
In Science, we will be growing beans and recording what happens as they grow. We are going to be finding out what each part of a plants job is. We will also be watching the tadpoles to see how they grow and change and look at their lifecycle.
Our Church School Value this term is Forgiveness. We will begin our learning with the Bible story of the term - 'The Lords Prayer' Matthew 6: 9-13.
Term 4
Our learning question is:
Why can't a Meerkat live at the North Pole? 
In English, we will be focussing on the book 'Meerkat Mail' by Emily Gravett. We will be writing postcards, diary entries, fact finding about meerkats and writing an alternative story. 
In Science, we will start our learning by finding out about mammals. Then we are going to investigate birds, reptiles, amphibians and fish. We're also going to explore the learning question 'Are all animal's carnivores?' We will find out about omnivores and herbivores too. 
In Geography we will be learning all about the weather and how it can affect us. We will even be performing our own weather forecast. We will also look at hot and cold countries and which animals live in these hot and cold places. 
Our Superstar this week is: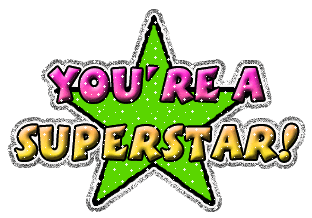 Our Head Teachers stickers this week go to:
Our Collective Worship Council representative is: Josh Wilcock
Year 1 End of year Expectations